Greece: Athens & the Peloponnese Guidebook
$24.99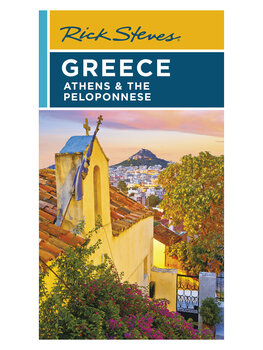 Rick's picks for sights, eating, sleeping
In-depth coverage of Athens and our favorite destinations in the Peloponnese
Also includes Delphi and the islands of Hydra, Mykonos, and Santorini
Stuffed with fun self-guided neighborhood walks and museum tours
Buy your Greece: Athens & the Peloponnese Guidebook:
What's Included
In Rick Steves Athens & the Peloponnese you'll find in-depth Rick-tested information on:
Athens

Thorough city-guidebook-level coverage, including two self-guided city walks and four tours (Acropolis, Ancient Agora, Acropolis Museum, and National Archaeological Museum), plus background on Athens' shopping and nightlife

Nafplio
Epidavros and Mycenae
Olympia
Kardamyli and the Mani Peninsula
Monemvasia
Delphi
Island of Hydra
Islands of Mykonos and nearby Delos
Island of Santorini
Practicalities

Easy-to-follow maps (including color maps of Greece and central Athens)
​Trip planning: When to go, pre-trip checklist, festivals and holidays, recommended books and movies
Recommended two-week itinerary and advice on planning your time and avoiding lines
Transportation: Driving (including route tips), buses, city transit, and ferries
Greek history, mythology, culture, language, and cuisine
Detailed advice on managing money, communicating, reserving rooms, handling emergencies, and other helpful hints
Handy Greek survival phrases
Product Details
| | |
| --- | --- |
| Author(s): | Rick Steves |
| Dimensions: | 8" x 4 ½" x ¾" |
| Weight: | 13.5 oz |
| Pages: | 584 |
| Publication date: | May 2023 (7th edition) |
| Next edition arrives: | Winter 2025 |
Is This the Right Book for Me?
The insiders at the Athens News (Greece, not Georgia) call this book "an indispensable guide": "Steves clearly knows his stuff — the archaeological sites he does remarkably well — and his guide has a ringing actuality about it. Yes, the vibrancy of Thissio does make the Plaka seem like 'stale baklava' and Psyrri is 'seedy-chic, a mix of trendy and crusty.' Steves can also point you to the best cheese pie in central Athens..."
While Rick Steves Greece covers a few islands (Hydra, Mykonos and nearby Delos, and Santorini), most travelers headed to more islands will want to supplement their Rick Steves book with a guide to the islands (we recommend Lonely Planet Greek Islands).
Should I get Rick's Pocket Athens guide in addition to this Greece guidebook?
Nope! The Athens chapters of the full-size Greece guidebook already include all the information that's in Rick Steves Pocket Athens — and then some.
Pocket Athens works best for people taking a short trip, or perhaps a return trip, to Athens — and not venturing beyond it. Like our other Pocket guides, it's smaller than the complete guidebook (and in full color), but still offers our best sightseeing advice, self-guided city walks and museum tours, and a foldout map.
For travelers who want to delve deep into Athens — even if they're not traveling elsewhere in Greece — the full-size guidebook can be a better option. It offers more substantial (and more frequently updated) advice on Athens itself: practicalities, sightseeing, hotels, restaurants, nightlife, shopping, and the city's history and culture.
Updates and Feedback
Latest updates: When we learn of critical changes to the information in this guidebook, we post them. (Of course, it's still smart to reconfirm critical transportation and sightseeing details locally.) Armed with a Rick Steves guidebook and these late-breaking updates, you're set for a great trip!
Submit feedback: Once you've used this book in Europe, we'd love to hear your feedback — good or bad — about our advice on sights, hotels, restaurants, and travel tips. We're also interested in any tips or discoveries you made while in Europe. Your comments help us improve our guidebooks for future travelers.