German Phrase Book & Dictionary
$12.99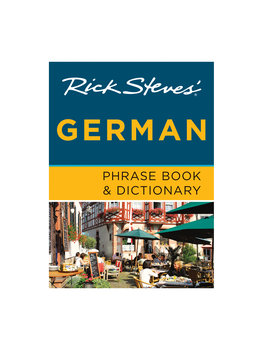 Key words and phrases for travelers
In full color, with color coding for easy navigation
Handy pocket-size format
Menu decoder and phone instructions
German–English dictionary
Buy your German Phrase Book & Dictionary:
What's Included
After decades of close-to-the-ground travel through Europe, Rick Steves has learned which German words and phrases are important for independent travelers — and which ones are worthless outside of four-star hotels. This pocket-sized volume is packed with practical words and phrases designed to help you enjoy a better trip.
You'll find key German words and phrases covering:
Travel in Germany, Austria, and Switzerland by train, car, city transit, and taxi
Shopping, money, entertainment, activities
Sightseeing, technology, sleeping
Germanic food, wine, and beer, with extensive descriptions
Travel talk, health, love, curse words
German tongue twisters and gestures
Wait — there's more:
More pages than previous editions, but thinner paper for better "pocketability"
Detailed German–English and English–German traveler's dictionary
Helpful German–English and English–German menu decoder
Instructions for using tech devices and telephones
Phrases for making reservations over the phone
Maps to aid in conversations
Words and phrases designed to help you make friends with German speakers
Product Details
| | |
| --- | --- |
| Author(s): | Rick Steves |
| Dimensions: | 5 ½" x 3 ¾" x ½" |
| Weight: | 7 oz |
| Pages: | 438 |
| Publication date: | January 2014 (7th edition) |
| Next edition arrives: | September 2019 |
Is This the Right Book for Me?
If your trip will focus primarily on German-speaking areas, this single-language phrase book is your best value.
If you'll be traveling to Italian- or French-speaking areas as well, Rick Steves' French, Italian & German Phrase Book might be the better buy. It contains all the essentials of each single-language phrase book, but without a dictionary, and with fewer travel tips (and it's in two-color, not full color).