Prague & the Czech Republic Guidebook
$22.99 Sale Price: $18.39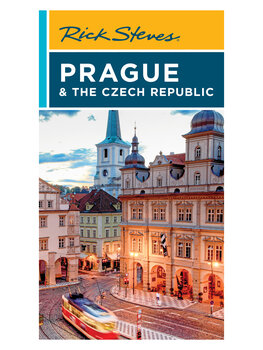 Rick's picks for sights, eating, sleeping
All you need for Prague and the best of the Czech Republic
Includes handy full-color foldout map of Prague
Buy your Prague & the Czech Republic Guidebook:
What's Included
In Rick Steves Prague & the Czech Republic you'll find in-depth Rick-tested information on:
Prague

Thorough city-guidebook-level coverage, including three self-guided walks (Old Town and Charles Bridge, Wenseslas Square, and Vyšehrad district), four museum tours (Jewish Quarter, Museum of Medieval Art, Mucha Museum, and Prague Castle), and background on Prague's shopping and entertainment offerings

Day trips from Prague

Kutná Hora
Terezín Concentration Camp Memorial and Litoměřice
Konopiště, Karlštejn, and Křivoklát castles, and nearby (including Nižbor and Lány)
Karlovy Vary (Carlsbad)

Český Krumlov
Olomouc and Kroměříž
Southern Czech Towns

Třeboň
Telč
Třebíč
Slavonice
Moravský Krumlov (including Alphonse Mucha's Slav Epic)

Wallachia

Štramberk
Rožnov pod Radhoštěm
Pustevny

Mikulov Wine Region

Mikulov
Pavlov and the Pálava Hills
Lednice and Valtice

Practicalities

Easy-to-follow maps (including color maps of the Czech Republic, central Prague, Prague public transit, and Prague Castle)
​Trip planning: When to go, pre-trip checklist, festivals and holidays, recommended books and movies
Recommended itineraries and advice on planning your time and avoiding lines
Transportation: Trains, buses, city transit, and driving
Czech history, culture, language, and cuisine
Detailed advice on managing money, communicating, reserving rooms, handling emergencies, and other helpful hints
Handy Czech survival phrases
Also included: a 10¾" x 19½" full-color foldout Planning Map with a big overview of the city (with major sights), plus detailed close-ups of the Old Town/Jewish Quarter and the Castle Quarter, a schematic showing major transit lines, a zoom-out of Greater Prague, and an overview of the Czech Republic.
Product Details
| | |
| --- | --- |
| Author(s): | Rick Steves & Jan (Honza) Vihan |
| Dimensions: | 8" x 4 ½" x ¾" |
| Weight: | 11 oz |
| Pages: | 519 |
| Publication date: | October 2023 (12th edition) |
| Next edition arrives: | Winter 2027 |
Is This the Right Book for Me?
Should I get Rick's Eastern Europe guidebook in addition to this Prague & Czech Republic book?
Probably not. If your trip includes the Czech Republic as part of a wider trip to eastern central Europe — to Hungary, Slovakia, Croatia, Slovenia, and/or Poland — Rick Steves Eastern Europe is all you're likely to need. It includes thorough coverage of Rick's select picks in the Czech Republic (Prague, Prague's day trips, and Český Krumlov), albeit with less detail on Prague than you'll find in Rick Steves Prague & the Czech Republic, and without any coverage of central or eastern Czech Republic.
But if your big trip includes at least a week in the Czech Republic (or Czech destinations not covered in the bigger Eastern Europe book), the extra information in Rick Steves Prague can be worthwhile.
What's the difference between this Prague & the Czech Republic guidebook and Rick's Pocket Prague guide?
The biggest difference: The full-size Rick Steves Prague & the Czech Republic is not only a comprehensive guide to the Czech Republic's most exciting city, but also covers Rick's favorite Czech destinations beyond Prague.
Rick Steves Pocket Prague works best for people taking a short trip, or perhaps a return trip, to Prague — and not venturing beyond it. Like our other Pocket guides, Pocket Prague is smaller than the complete guidebook (and in full color), but still offers our best sightseeing advice and a handful of self-guided city walks and museum tours.
For travelers who want to delve deep into Prague, or travel elsewhere in the Czech Republic, the full-size guidebook is a better option. It offers complete chapters for plenty more Czech destinations, as well as more substantial (and more frequently updated) advice on Prague itself: practicalities, sightseeing, self-guided tours, hotels, restaurants, nightlife, shopping, and the city's history and culture.
Updates and Feedback
Latest updates: When we learn of critical changes to the information in our guidebooks on the Czech Republic, we post them. (Of course, it's still smart to reconfirm critical transportation and sightseeing details locally.) Armed with a Rick Steves guidebook and these late-breaking updates, you're set for a great trip!
Submit feedback: Once you've used this book in Europe, we'd love to hear your feedback — good or bad — about our advice on sights, hotels, restaurants, and travel tips. We're also interested in any tips or discoveries you made while in Europe. Your comments help us improve our guidebooks for future travelers.