European Christmas Music CD
$9.99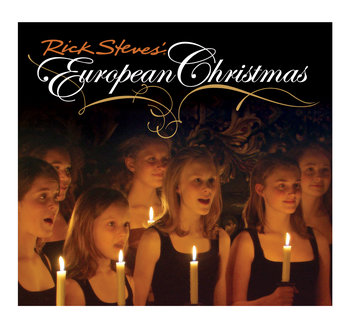 Recorded live in Europe
CD music companion to Rick's TV special
The perfect holiday soundtrack
Save when you buy Rick's European Christmas book + DVD + music CD gift pack!
Buy your European Christmas Music CD:
What's Included
While making the "Rick Steves' European Christmas" special for PBS, Rick and his crew filmed traditional celebrations in seven countries. Of the many concerts they recorded, this collection contains the finest carols — our top 20. Performed in venues ranging from a simple stone-vault church in Oslo, to a magnificent Wren church in London, to a Cistercian Abbey in Burgundy — this music celebrates Christmas, and Europe's cultural diversity. It's the perfect soundtrack for your own holiday festivities this year!
Tracks include:
Carol of the Bells: Norwegian Girls Choir (Oslo)
Deck the Halls with Boughs of Holly: The Sixteen (London)
We Three Kings: Bath Abbey Choir of Boys and Men (Bath)
Personent Hodie: Norwegian Girls Choir
The Holly and the Ivy: The Sixteen
Es Ist für Uns eine Zeit Angekommen: Wilhelm-Loehe School Choir (Nürnberg)
Joseph Lieber: Nonsuch Singers (London)
Faisons Rejouissance: Phonema (Beaune)
Deilig er Jorden: Norwegian Girls Choir
Jingle Bells: The City of Bath Bach Choir
I Saw Three Ships: Bath Abbey Choir of Boys and Men
O Holy Night: Bath Abbey Choir of Boys and Men
Santa Claus Is Comin' to Town: The Premiere Brass Quintet (Bath)
The Twelve Days of Christmas: The City of Bath Bach Choir
Sussex Carol: The City of Bath Bach Choir
O Quam Magnum Miraculum Est: Nonsuch Singers
Videte Miraculum: Nonsuch Singers
The Salutation Carol: The Sixteen
Madonna noi Sapimo: Phonema
Silent Night: Norwegian Girls Choir
Product Details
| | |
| --- | --- |
| Format: | CD |
| Sound: | Dolby 5.1 |
| Source: | Rick Steves' Europe, Inc. |