The Blu-ray Collection
$49.99 Sale Price: $24.99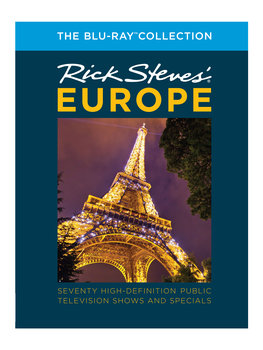 Holiday Sale: 50% off through 12/15/19 or while supplies last!
70 of Rick's hi-def, widescreen TV shows and specials
More than 36 hours of travel thrills on 12 Blu-ray discs
Travel has never, ever looked this good
Buy your The Blu-ray Collection:
What's Included
One Sharp Deal: You'll get 70 hi-def, widescreen "Rick Steves' Europe" TV shows and specials in a classy, 12-disc box set.
Here's where Rick Steves' Europe: The Blu-ray Collection will take you…
Italy's Cities 7 shows, 3½ hours

Rome: Ancient Glory
Rome: Baroque Brilliance
Rome: Back-Street Riches
Florence: Heart of the Renaissance
Florentine Delights and Tuscan Side-Trips
Venice: City of Dreams
Venice and Its Lagoon

Italy's Countryside 5 shows, 2½ hours

Milan and Lake Como
Tuscany's Dolce Vita
Italy's Great Hill Towns
Naples and Pompeii
Italy's Amalfi Coast

France 8 shows, 4 hours

Paris: Regal and Intimate
Paris: Embracing Life and Art
Highlights of Paris: Eiffel and Monet to Crème Brûlée
Normandy: War-Torn Yet Full of Life
Provence: Legendary Light, Wind, and Wine
French Riviera: Uniquely Chic
Burgundy: Profoundly French
France's Dordogne

Spain 8 shows, 4 hours

Barcelona and Catalunya
Basque Country
Northern Spain and the Camino de Santiago
The Majesty of Madrid
Highlights of Castile: Toledo and Salamanca
Sevilla • Granada, Cordoba, and Spain's Costa del Sol
Andalucía, Gibraltar, and Tangier

Germany, Benelux & More 4 shows, 2 hours

Munich and the Foothills of the Alps
Germany's Romantic Rhine and Rothenburg
Belgium: Bruges and Brussels
Little Europe: Five Micro-Countries

Austria & the Alps 5 shows, 2½ hours

Vienna
Vienna and the Danube
Salzburg and Surroundings
The Best of the Alps: Switzerland's Jungfrau Region
Switzerland's Great Cities

England & Wales 5 shows, 2½ hours

London: Historic and Dynamic
London: Mod and Trad
North Wales: Feisty and Poetic
England's Bath and York
North England's Lake District and Durham

Ireland & Scotland 5 shows, 2½ hours

Dublin
The Best of South Ireland
The Best of West Ireland
Belfast and the Best of Northern Ireland
Edinburgh

Scandinavia 7 shows, 4 hours

Copenhagen
Denmark Beyond Copenhagen
Norway's West: Fjords, Mountains, and Bergen
Oslo
Stockholm
Helsinki and Tallinn: Baltic Sisters
Bonus Extra: Rick Steves' Europe, A Symphonic Journey

Eastern Europe 6 shows, 3 hours

Czech Republic Beyond Prague
Poland: Krakow, Auschwitz, and Warsaw
Budapest: The Best of Hungary
Croatia: Adriatic Delights
The Best of Slovenia
Dubrovnik and Balkan Side-Trips

Greece, Turkey & Portugal 4 shows, 2 hours

Athens and Side-Trips
Greece's Peloponnese
Istanbul
Lisbon and the Algarve

Travel Skills & Specials 6 shows, 4 hours

Travel Skills Special, Parts I, II & III (3 shows)
Rick Steves' Europe: The Making Of
Rick Steves' Iran Special
Rick Steves' European Christmas Special
Want more shows? Rick Steves' Europe: The Complete Collection DVD Box Set includes all Rick Steves' Europe TV shows (both standard and hi-def on 16 DVDs).
Product Details
| | |
| --- | --- |
| Run time: | 36 hours |
| Format: | Blu-ray |
| Sound: | Dolby 5.1 |
| Language: | English |
| Source: | Rick Steves' Europe, Inc. |