Quick Fresh™ Natural Odor Eliminator
$4.99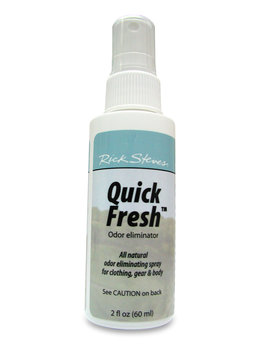 Amazing deodorizing spray
Keep clothes fresh between washes
Works wonders on shoes or hotel bedding
All natural and fragrance free
Buy your Quick Fresh™ Natural Odor Eliminator:
Description
The Well-Worn Truth: Travel is a gas, but it often means you're stuck wearing clothes longer between washings than you'd like.
Freshen Up: Spray a little fragrance-free Quick Fresh™ on your duds, so you (and those around you) can focus on having fun — free from stale odors.
All Natural: This biodegradable, hypoallergenic deodorizing spray is designed to be sprayed on clothing while it's being worn.
Versatile: It's also great for the insides of shoes, packs, sleeping bags — even removes smoke odors from hotel bedding and train compartments!
OK for Carry-On: Because this contains less than 3 ounces of liquid, you may carry it on board your flight (inside a clear, quart-size Ziploc bag).
Product Details
| | |
| --- | --- |
| Dimensions: | 5" tall |
| Weight: | Contains 2 oz of liquid |
| Materials: | All natural |
| Origin: | Imported |
Our Product Guarantee
Every Rick Steves travel product comes with our guarantee that it will be free from material and manufacturing defects for the life of the product. If a defect appears, we will replace the product free of charge. This guarantee does not cover damage caused by an airline or other common carrier. Nor does it cover wear and tear to components and materials which may occur over time with use of the product.