Thumb Beam Illuminator
$7.99 Sale Price: $4.00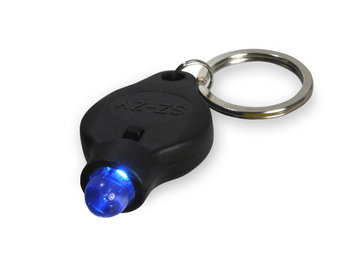 Thumb-size, super-bright LED light
Find your hotel keyhole or ear plugs in the dark
Clips to your keychain or backpack
Buy your Thumb Beam Illuminator:
Description
The Dark Side of Travel: It's hard enough to figure out which way to twist your hotel key — let alone find the tiny keyhole in the dark. And does your soundly snoring roommate really want you flipping on the lights to find your earplugs?
Let There Be Light: With your handy Thumb Beam Illuminator, you'll focus a brilliant LED light on what truly matters, and curse not the darkness.
Beam Up: Visible for up to 10 miles if you're ever lost in the desert. The two included lithium cells are replaceable.
Colors: Black
Product Details
| | |
| --- | --- |
| Dimensions: | 2" x 1" |
| Weight: | 0.5 oz |
| Materials: | Plastic |
| Origin: | Imported |
Our Product Guarantee
Every Rick Steves travel product comes with our guarantee that it will be free from material and manufacturing defects for the life of the product. If a defect appears, we will replace the product free of charge. This guarantee does not cover damage caused by an airline or other common carrier. Nor does it cover wear and tear to components and materials which may occur over time with use of the product.