European Easter DVD
$9.99 Sale Price: $4.99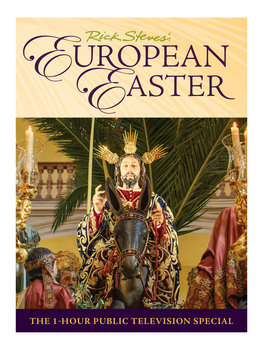 Holiday Sale: 50% off through 12/15/19 or while supplies last!
Celebrate Easter across Europe!
Rick's one-hour TV special
Filmed in Spain, Slovenia, Switzerland, Italy, and Greece
Save 43% when you buy Rick's European Easter book + DVD gift pack!
Buy your European Easter DVD:
What's Included
In this one-hour show, Rick and his crew take you on a spring journey through Spain, Slovenia, Switzerland, Italy, and Greece for an up-close look at how this 2,000-year-old story is celebrated across Europe.
Feel the emotion of this special time as the festivities of Carnival give way to the austerity of Lent, and as the Passion of Christ unfolds during Holy Week. Join Andalusians carrying parade floats, Greek priests tossing showers of flower petals, and villagers blessing olive branches, plus feasting, fireworks, and more.
Exploring a rich and fascinating mix of traditions, from its pagan roots to its glorious finale, "Rick Steves' European Easter" sheds new light on this timeless holiday.
Product Details
| | |
| --- | --- |
| Run time: | 1 hour |
| Format: | DVD |
| Sound: | Dolby Digital Plus |
| Language: | English |
| Accessibility: | Closed captioned |
| Source: | Rick Steves' Europe, Inc. |